"I felt that the most comforting thing about Dr. Rahban is that he always spends so much time with us. He has never rushed us or made us feel like we weren't his priority, in fact, he does the exact opposite." D.N.
What is corrective / revision rhinoplasty:
In general, revision surgery is defined as the second (third, or fourth) round of the same procedure to make a correction or adjustment. This could be either an aesthetic or functional correction.
Corrective Rhinoplasty - also known as revision rhinoplasty, refers to any patient who has previously undergone a rhinoplasty one or more times, and is left with undesirable changes to the nasal structure affecting both the aesthetics and function of the nose.
Some of the most important work in a revision rhinoplasty Los Angeles is what Dr. Rahban does to correct the altered foundational nasal structures which consists of: the septum, turbinates, nasal bones, and cartilaginous structures. These structures are incredibly important to your ability to breath well, ultimately impacting your quality of life.
When someone has had a rhinoplasty that left them dissatisfied with their appearance or with complications, a corrective rhinoplasty or revision rhinoplasty may be a good option.
Whether your goal is to breath more easily, improve the look of your nose, or both, a consultation with Dr. Rahban will allow you to learn about your treatment options.
It's important to note that Dr. Rahban does not perform revision rhinoplasty surgery immediately following an original procedure. This is to allow your nose ample time to heal completely prior to undergoing another surgery. Many patients are scared and anxious and want to fix things as soon as possible. While that is an understandable feeling, swelling and inflammation may still be present, making correction unlikely as it can potentially worsen existing issues.
Why you want corrective / revision rhinoplasty:
Improvements in nasal function: Dr. Rahban's patients come into the office with the inability to sleep well, experience challenges with exercising, and are often exhausted from dealing with their constant breathing problems. This is disruptive to their quality of life and therefore, corrective rhinoplasty can be a life changing operation.
Improvements in appearance: If your initial rhinoplasty has left you dissatisfied with your overall appearance with your nose, a revision rhinoplasty can substantially improve your appearance. Whether you feel you are looking for a nose that is more balanced, smaller, or thinner, let us show you how revision rhinoplasty can help you reach your goals.
Importance of Seeking out a Revision Rhinoplasty Expert:
If a revision rhinoplasty is necessary, it's imperative that you do your research and seek out a Board Certified revision expert such as Dr. Rahban. It's crucial to understand that revision surgery is far more complex than the initial procedure and should not be taken lightly by patients or doctors alike.
What sets Dr. Rahban apart is his patient centric approach, and willingness to take as much time as needed to troubleshoot the root of the issue that led to the need for a revision rhinoplasty in the first place. There are several key elements to ensure an outstanding outcome from corrective rhinoplasty surgery. First, diagnosing the issue, followed by creating a correct surgical plan, and finally executing it. That means a surgeon MUST ask a lot of questions about the initial surgery, review operative reports from the previous surgeon, and try to identify what went wrong. Fact gathering is a time consuming process and may take multiple visits. In a busy surgeons practice, the process is often rushed and inadequate time is spent really listening and understanding the patients history. Often times, surgeons are arrogant and plan to do the same surgery except assuming they are a better surgeon, which can lead to multiple failures.
Lastly, once the facts are known, and a new fresh plan has been determined, it's time for your surgeon to execute the plan. Your surgeon must be highly skilled, and able to think outside the box. Otherwise, you are destined to repeat the same mistake. Primary, or first time surgery is difficult as it is let alone a revision where the anatomy is altered and there is excess scar tissue. Patience, and accuracy is crucial.
What you want:
A nose that functions better. Maybe you have difficulty breathing from one side of your nose since your last surgery. A properly functioning nose will positively impact your quality of everyday life.
A nose that fits your face. After your initial surgery, you may have been left with irregularities that you didn't have before. A nose that's disproportionately too big, or too small alters the overall harmony of your face.
A nose that looks like you. Your goal with a rhinoplasty isn't to be unrecognizable when it's over. You still want to look like you, only better. However, if your initial rhinoplasty has left you looking unnatural – too pointy, over rotated, too narrow, or collapsed nostrils, Dr. Rahban has answers and options to bring you back to a more desired, natural look. His ability to listen to his patients and his attention to detail has earned him a reputation as the best revision rhinoplasty surgeon Beverly Hills & Los Angeles have to offer..
Your Revision Rhinoplasty Consultation
Revision rhinoplasty is an incredibly challenging procedure necessitating an extended consultation with Dr. Rahban. Rhinoplasties are incredibly challenging and personalized treatments, in general. However, revision rhinoplasty is even more personalized and challenging than a primary procedure because it must undo or compensate for the deficiencies of the first procedure.
During your revision rhinoplasty consultation, Dr. Rahban carefully evaluates your nose and discusses your cosmetic concerns and goals. He must make the following assessments:
If you have realistic expectations from the procedure and need a revision for valid reasons.
If you have any underlying medical conditions that preclude you from getting a rhinoplasty.
If your nose has healed completely after the primary rhinoplasty — your revision rhinoplasty must be performed at least one year after the primary procedure.
If you have breathing problems or other functional issues because of the primary rhinoplasty.
If you'll need cartilage grafts to compensate for the mistakes of the primary procedure.
During the assessment, Dr. Rahban will review your medical history, examine the results of the primary rhinoplasty, and take photographs. He'll curate a personalized treatment plan, depending on your specific cosmetic and functional goals. Based on your goals and needs, the surgeon will curate the ideal rhinoplasty treatment plan.
Revision rhinoplasties usually include more steps than a primary rhinoplasty. For example, if the primary rhinoplasty has removed excessive cartilage, giving you a pinched nose, the surgeon may need to harvest cartilage grafts from other parts of your body. Dr. Rahban will discuss your treatment options, highlighting the expected results, recovery, and costs. You can make an informed decision accordingly.
"Patients always want to know what they are going to look like. I tell them, I work backwards. I won't tell you exactly what you are going to look like. I tell you that I am going to avoid these five things. If I avoid these five things, I am certain that you will get a beautiful, natural result." Dr. Rady Rahban
Member of The Rhinoplasty Society
The Rhinoplasty Society has stringent requirements for entry. From their website: "Members must be persons who perform plastic surgery or facial plastic surgery and who are board certified by the American Board of Plastic Surgery… or an equivalent foreign examining board. Three years' active practice in the field of Plastic and Reconstructive Surgery… is a must. Active members must show contributions to the education of rhinoplasty surgeons by teaching and publishing." Dr. Rahban is proud to be a contributing member of this prestigious establishment.
Dr. Rahban's Philosophy - five things you don't want:
A pinpoint tip: A nose with this pointy tip looks narrow and unnatural. It is sometimes referred to as a "Woody Woodpecker" nose. Often times this is caused by a surgeon who overcorrects a round or flat nasal tip.
A "ski slope": A ski slope refers to a scoop in the nose that can be caused by an inexperienced or sloppy surgeon who removes too much of the bridge of your nose. While many patients request that the hump on their nose be removed, it is critical to pay incredibly close attention to detail. Even a slightly heavy hand on how much to remove, can leave you with a scooped nose bridge.
An over-rotation: A nose that is over-rotated often happens when someone has a drooping nasal tip that they want straightened. This needs to be done with the utmost of care to prevent an overcorrection. If a surgeon is careless, you can end up with a nasal tip that is over-rotated with the nostrils pushed up at an unnatural-looking angle.
A very narrow nose: This is a nose job pitfall that you've likely seen: a nose that looks incredibly fragile and thin. Not only are the esthetics of this nose undesirable, but they indicate a strong possibility of breathing problems. It is relatively easy to make a nose smaller by removing structure, but more difficult to also reinforce the smaller structure to provide strength. Dr. Rahban's rhinoplasties address both the appearance and the function of your nose.
Collapsed nostrils: It may seem as though a nose that looks perfect right after your rhinoplasty would be ideal. However, this is not the case. Dr. Rahban says that when a nose looks very small and cute right after an operation, it means what you are seeing is the inevitable swelling, and the true nose is likely too small. Not only can a nose that's too small be less desirable, but it can lead to problems like the collapse of your nostrils that substantially interfere with your breathing as well as your appearance.
What to expect after Revision Rhinoplasty surgery:
The day of surgery. After your revision rhinoplasty, you will be groggy and will need a friend or family member to drive you home. They'll need to stay with you for at least a full day after your surgery, although ideally you'll have committed help for 7 - 10 days. You can expect to have swelling, and many patients have bruising. We will ensure you have pain medication available, although many revision rhinoplasty patients find they do not need anything stronger than over the counter pain relief. You will have a splint on the outside of your nose.
One week after surgery. At this time, we will take the splint off your nose. You may have bruising, and should expect swelling. Many patients find they are able to go back to work at this point, if they do not have a very physical job. However, you may want to wait into the later weeks as you may not be as presentable as you'd like at this point.
Six weeks after rhinoplasty. After 6 weeks, most patients do not have much swelling that is noticeable to anyone other than themselves. Your bruising should be completely gone, and your nose should look excellent. However, remember to be patient because there is still a long haul before you can see your final results.
18 months after rhinoplasty. At this point, the remainder of your swelling should be gone, and you'll be able to truly see your final rhinoplasty results. While some rhinoplasty patients are already having trouble breathing or seeing signs of pinching, Dr. Rahban's patients that had a corrective rhinoplasty have lasted for the long term. You will not only have great esthetic results, but a foundation to create and maintain healthy breathing.
"I tell patients, '80% of your results come in the first 6 weeks to 2 months. The last 20% happens over a year to 18 months."Dr. Rahban
What Our Patients Say: DeeAnn
"My sister and I both went to Dr. Rahban recently to discuss the problems that we have had with breathing for as long as we can remember. He was highly recommended to us by another physician in a similar field. He told us that Dr. Rahban would be the only doctor he would recommend or trust to do any surgical procedure on him or his family.
"As soon as we met him and his staff we knew that we were in good hands. Dr. Rahban welcomed us and listened to all of our medical and cosmetic concerns. He was so personable, warm and understanding. He gave us his medical advice and understood that there were also a few cosmetic concerns that we had as well. He thoroughly explained what he could do for us, both medically and cosmetic. We felt that he was realistic and honest about the results that we would see.
"I felt that the most comforting thing about Dr. Rahban is that he always spends so much time with us. He has never rushed us or made us feel like we weren't his priority, in fact, he does the exact opposite. When we are in his office we feel that we are his top priority.
"My sister and I scheduled our surgeries on the same day. Dr. Rahban spent an incredible amount of time on each of us before, during, and after surgery to make sure that the results were perfect. It was also very kind and considerate of him to check up on us that evening after surgery to make sure that we were well.
"I have to say that my sister and I have not only fallen in love with our results, but with Dr. Rahban as well. He is an all around great guy and physician with a fantastic sense of humor. Both my sister and I would recommend him to anyone looking for the best results possible. Thank you Dr. Rahban for all your care!" - DeeAnn
What you want to know about your nose surgery:
It's important to know that Dr. Rahban will never rush your Beverly Hills revision rhinoplasty. Any promise of how 'quick' a surgery will be, is a red flag about that surgeon's commitment to excellence. Dr. Rahban is substantially more dedicated to giving you an excellent result than he is to rushing you out of his operating room, hence his revision surgeries take on average 3 – 6 hours. In Beverly Hills, a revision rhinoplasty with Dr. Rahban is a carefully performed procedure that allows you to go home the same day. When you come in for a consultation, Dr. Rahban gives you a realistic expectation of how long your surgery will last, what the rhinoplasty recovery will entail, and what improvements to your breathing and appearance you can expect.
"Remember: if it's made by hand, it takes time." Dr. Rady Rahban
So that you are the most comfortable and Dr. Rahban can provide the best results, your revision rhinoplasty surgery is done under general anesthesia.
An open rhinoplasty is generally Dr. Rahban's preferred technique for a corrective nose job, and although there may be some additional swelling and bruising initially, the long term benefits well-outweigh the few short term disadvantages. An open rhinoplasty provides for better access to the nasal structure, which allows for the most advanced techniques that Dr. Rahban likes to use.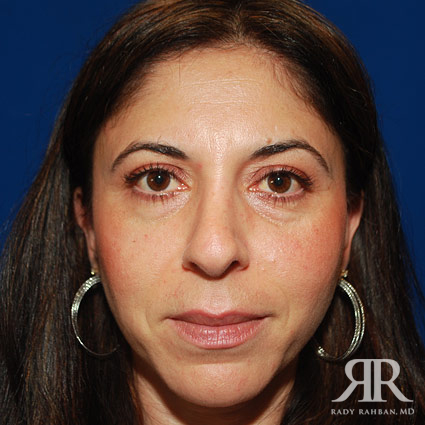 Benefit of functional rhinoplasty combined with aesthetic rhinoplasty.
Sometimes patients will undergo corrective breathing surgery such as a septoplasty in order to help their breathing, followed by aesthetic surgery years later. While 2 surgeries are certainly a valid option, there is a preferred option in which a functional rhinoplasty is combined with an aesthetic rhinoplasty. When Dr. Rahban performs a combined surgery, he fixes both the structural issues and aesthetic issues in the same surgery. A primary benefit is that he is able to use cartilage from your nose that he obtains during your septoplasty in order to reinforce and strengthen the nasal structures. If you have two separate surgeries, often the septal cartilage has been discarded and therefore he may need to take cartilage from your ear or rib in order to create the structure he needs.
Since every case is different, the only way to know if you are a candidate for a combined surgery is to set up a consultation with Dr. Rahban. If he determines that the combined rhinoplasty would be a good option for you, this has the potential to substantially cut down on your recovery time, days away from work, time in the operating room, and out of pocket expenses.
If you are considering this procedure, please come in for a consultation with Dr. Rahban. You can expect your initial exam and consultation to take an hour or more. In your consultation, Dr. Rahban will:
Listen to what you'd like to achieve with your surgery;
Review previous operative report(s), labs, scans, and photos;
Perform a thorough examination;
Tell you exactly what he recommends and why;
Address any questions and/or concerns.
As part of the process, Beverly Hills rhinoplasty surgeon, Dr. Rahban will discuss with you precisely what needs to be corrected in your nasal structure, and how he plans to improve your nasal function.
He will give you the opportunity to thoroughly examine photographs of his patients, looking at his earlier work, so that you can see for yourself what to expect if he performs your surgery. It is important that you and your doctor agree on the aesthetics and mechanics of your surgery in order to obtain the results that you want. Call us today to schedule your consultation for some of the top revision rhinoplasty Los Angeles & Beverly Hills offer, from Dr. Rady Rahban.
Read more Patient Testimonials »
Come in for a Consultation with Dr. Rahban
When Dr. Rahban does a consultation with a prospective patient, he wants it to be two things above all others: thorough and honest. He will find out from you just what you want from cosmetic surgery. And he will tell you honestly if you can get the result you want, and how he can best help you do so.
Call today for a consultation (424) 354-2053 or click here to schedule your consultation online »