"I am just about 2.5 weeks post-op and I am ecstatic! I can breathe much better. The huge bump on my nose is now non-existent." E.F.
Dr. Rady Rahban on Daily Mail TV - Rhinoplasty w/ Chin Augmentation
Video Testimonial
Ellen discusses her experience with Dr. Rady Rahban after undergoing plastic surgery for a Rhinoplasty.
What is Rhinoplasty:
When women come to see Los Angeles Rhinoplasty Surgeon, Dr. Rahban for nose surgery, it is because they are unhappy with the size, shape and/or function of their nose. Nose surgery or rhinoplasty is the procedure that Dr. Rahban will use to re-shape a woman's nose so that it is the size and shape that she is looking for.
Why you want rhinoplasty:
Improved appearance: Rhinoplasty or nose surgery means changes in micro millimeters, but it can radically change the appearance of your face. If you are unhappy with your nose because it is too large, too small, or misshapen because of an accident or birth, nose surgery can change your look in a way that creates balance and a more pleasing aesthetic.
Improved function: While your nose may be functioning perfectly, Dr. Rahban also finds that many patients who are looking for nose surgery are experiencing difficulties with breathing, allergies or vertigo: problems that could be caused or aggravated by malformations within the nose.
What you want:
Natural: this is such an easy request to make for a nose job, and such a hard request to deliver on. Of course you want your nose to look 'natural' but that means so many different things to different surgeons. Talk to Dr. Rahban about his philosophy on a natural-looking nose, and you'll understand how compex the question is - and how well he does at fulfilling this request.
Balanced: the perfect nose for your face would look completely out of place on other peoples' faces. Creating the right nose involves a detailed understanding of the rest of the features of your face, and how to create balance between them.
Pretty: just like asking for a 'natural' nose is very subjective, asking for a 'pretty' nose is too. The key to getting what you want is learning how to ask for your improved nose with the right combination of words and visuals. What one surgeon thinks is 'pretty' may not be pretty to you, so your surgeon choice is critical.
Right for you: sure, you want improvements to your nose. But you still want to look like yourself. There's a fine line between enhancing your nose and changing how you look. Dr. Rahban is incredibly careful about making sure you still look like you - with an improved nose.
What you can expect in your Initial Consultation:
If you are considering this procedure, please come in for a consultation with Dr. Rahban. You can expect your initial exam and consultation to take an hour or more. In your consultation, Dr. Rahban will:
Listen to what you'd like to achieve with your surgery
Perform a thorough examination
Tell you exactly what he recommends and why
Make sure that any questions you have about financing are completely answered
As part of the process, Dr. Rahban will give you the opportunity to thoroughly examine photographs of his patients, looking at his earlier work, so that you can see for yourself what to expect if he performs your rhinoplasty. He will discuss with you precisely how your facial features work together, and how things such as the distance between your eyes, the size of your lips and the size and shape of your chin all effect the results that you can expect from your surgery. It is important that you and your doctor agree on the aesthetics and mechanics of your surgery in order to obtain the results that you want.
"Patients always want to know what they are going to look like. I tell them, I work backwards. I won't tell you exactly what you are going to look like. I tell you that I am going to avoid these five things. If I avoid these five things, I am certain that you will get a beautiful, natural result." Dr. Rady Rahban
Member of The Rhinoplasty Society
The Rhinoplasty Society has stringent requirements for entry. From their website: "Members must be persons who perform plastic surgery or facial plastic surgery and who are board certified by the American Board of Plastic Surgery… or an equivalent foreign examining board. Three years' active practice in the field of Plastic and Reconstructive Surgery… is a must. Active members must show contributions to the education of rhinoplasty surgeons by teaching and publishing." Dr. Rahban is proud to be a contributing member of this prestigious establishment.
Dr. Rahban's Philosophy - five things you don't want:
A pointy nose: If you have a nasal tip that is full, rounded, or flat, a surgeon will want to correct this. However, if the corrections go to far, you can end up with a pointy "Woody Woodpecker" nose, which is not what you want.
A scoop: When someone has a hump on their nasal bridge, they'll usually ask for it to be removed. It's critical that the surgeon remove enough, but not too much. A surgeon who does not pay attention to the smallest details can leave a patient with a nose with a scooped bridge that is sometimes described as a ski slope looking nose.
An over-rotation: Some people have a nasal tip that droops downward. The goal is to correct this by making it straight. However, an overcorrection of a drooping nasal tip can lead to nostrils that are pushed upwards. This leaves the patient with an unnatural looking nose.
An overly narrow nose: Most rhinoplasty patients ask for a smaller nose. While this is an important goal in many nasal surgeries, it's important not to create a nose that is too narrow. A nose that appears excessively thin or fragile is going to result in an unsatisfactory final result, as well as serious potential breathing problems.
Collapsed nostrils: The collapsing of your nostrils is not just a significant cosmetic issue, it can also lead to lifelong problems with breathing. The collapse of nostrils happens when a surgeon focuses on creating a small, cute nose, and dismisses the importance of reinforcing the nasal foundation.
What you want to know about your nose surgery:
The first thing we want you to understand is that a quick surgery does not mean a good surgery. Any surgeon that promises a fast 'in and out' for your rhinoplasty, is not thinking about your long term results. Dr. Rahban is an incredibly well respected Los Angeles Rhinoplasty surgeon because he will not rush your surgery. He will take his time, carefully analyzing each aspect of your nasal reconstruction to give you the best esthetic and functional result.
"Remember: if it's made by hand, it takes time." Dr. Rady Rahban
There are several choices for anesthesia, but Dr. Rahban almost always uses general anesthetic for rhinoplasties. This anesthesia gives you the most safe, comfortable experience. Dr. Rahban is also a proponent of the open rhinoplasty technique. This differs from a closed rhinoplasty in that he makes one addition incision through the tissue that connects your nostrils at the base of your nose. This open rhinoplasty allows for the most accurate and advanced techniques. While he may choose a closed rhinoplasty in some cases, an open rhinoplasty is the better choice many times.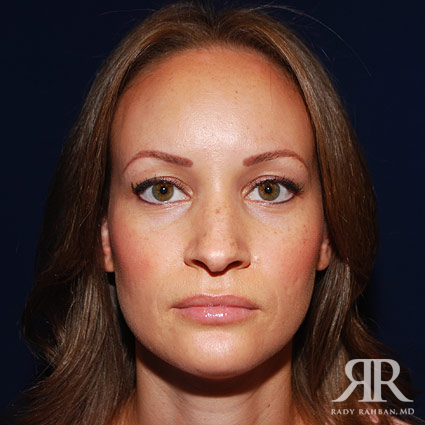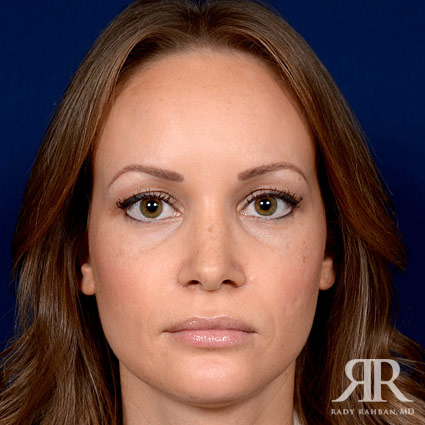 Dr. Rahban will rebuild your nose from the inside out.
Los Angeles Rhinoplasty Surgeon, Dr. Rahban emphasizes that often a plastic surgeon will perform a 'reduction rhinoplasty'. This is a less advanced surgery, and provides an easy solution to creating a 'smaller and cuter' nose. However, it also is likely to result in the nose weakening, distorting, or collapsing over time. How can you avoid these results? The key to successful long term rhinoplasty results is to perform a reconstructive rhinoplasty instead. During a reconstructive rhinoplasty, Dr. Rahban uses bone and cartilage to create a strong foundation to support your breathing and new nose. While you can have a smaller and cuter nose with this type of surgery, you can also have a nose job that lasts.
Dr. Rahban focuses on performing instead a "Structural Rhinoplasty." In his words:
"I take out the things that you don't need, and then I put in new grafts, new struts and beams, new things that will reinforce the nose. You don't see it, it's the stuff that keeps the nose looking great at 1 year, at 5 years, at 10 years."Dr. Rady Rahban
What you can expect after surgery:
The day of your rhinoplasty: most patients find that they tolerate the anesthesia well. While you'll be groggy when you wake up, you can go home the same day. You will need someone to drive you home and stay with you for at least a day after your rhinoplasty. We will ensure you have pain medicine, although most patients do not need prescription painkillers. You should expect some swelling and bruising.
A week after surgery: at this point we will remove your splint and packing, and you may be able to return to work. You'll still have some swelling, but the bruising will be dissipating.
Six weeks after rhinoplasty: by this point you will still have swelling, but it will be minimal enough that no one but your closest friends or family should notice. While the swelling is much less than it was, remember you will have some minimal residual swelling for over a year still:
18 months after surgery: by this point, you should finally be done with any remaining trace of swelling and will be able to see your final rhinoplasty results.
"I tell patients, '80% of your results come in the first 6 weeks to 2 months. The last 20% happens over a year to 18 months."Dr. Rahban
What Our Patients Say: Ellen F.
"For years, it was a dream to get the huge bump on my nose taken off and my nose straightened but the cost and other priorities in life always came into play and put the dream on the back burner of life.
"I'd experienced nasal problems all my life from really bad allergies to post nasal drip blockage causing vertigo. I'd always felt that the left side of my nose wasn't working too well, but didn't realize just how bad it was.
"So when Dr. Rahban checked all my nasal functionality and saw that he could improve it inside AND out, how could I walk away and put this on the back burner again?!
"I am just about 2.5 weeks post-op and I am ecstatic! I can breathe much better and smell things I never could before and my nasal problems have somehow been diminished to a minimum. The huge bump on my nose is now non-existent and my nostrils look so much smaller thanks to his being so creative!" - Ellen F.
Read more Patient Testimonials »
Come in for a Consultation with Dr. Rahban
When Dr. Rahban does a consultation with a prospective patient, he wants it to be two things above all others: thorough and honest. He will find out from you just what you want from cosmetic surgery. And he will tell you honestly if you can get the result you want, and how he can best help you do so.
Call today for a consultation (424) 354-2053 or click here to schedule your consultation online »