"[My boyfriend] and I are truly elated with the results because Dr. Rahban made a nose for my face not just a 'pretty nose.' That turned out to be the most important aspect of this process, because my nose looks real... and it's fabulous!" L.C.
Video Testimonial
Ellen discusses her experience with Dr. Rady Rahban after undergoing plastic surgery for a Rhinoplasty.
What is ethnic rhinoplasty:
Whatever your ethnicity, if you are coming to see Los Angeles Nose Surgeon, Dr. Rahban for nose surgery or ethnic rhinoplasty, it is because you are unhappy with the size, shape and/or function of your nose. Nose surgery or rhinoplasty is the procedure that Dr. Rahban will use to re-shape your nose so that it is the size and shape that you are looking for.
Your nose is a part of your genetic heritage, and, like your skin and hair color, it reflects your ethnic background. In size, shape, structure, and details, it is uniquely your nose. Whether you want your nose surgery to preserve or to significantly change distinctive ethnic characteristics of your nose, Dr. Rahban has the skill and understanding to help you achieve your goal.
Why you want ethnic rhinoplasty:
Improved appearance: Ethnic rhinoplasty means changes in micro millimeters, but it can radically change the appearance of your face. If you are unhappy with your nose for any reason, ethnic rhinoplasty can change your look in a way that finds balance and harmony in your features, without negating who you are.
Improved function: While your nose may be functioning perfectly, Dr. Rahban also finds that many patients who are looking for nose surgery are experiencing difficulties with breathing, allergies or vertigo: problems that could be caused or aggravated by malformations within the nose.
What you want from ethnic rhinoplasty:
A nose that functions perfectly. Maybe you have difficulty breathing through one side of your nose, and it's just "normal" for you to breathe only on that side. Maybe you've had chronic sinus infections since you were little, and that's "normal" too. Or maybe the airbag clobbered you in a car accident last year, and you haven't been able to breathe correctly since then. Whatever the problem, you'd like it fixed. Permanently.
A nose that fits your face. You don't want a nose that's too big, but you also don't want one that's too small. Maybe you'd like to finally get rid of that hump on your nose, or maybe you just want it to look like it did before you broke it. Whatever the change, you know that you want your nose to look balanced on your face.
A nose that looks like you. Your goal with a nose job isn't to be unrecognizable when it's over. You still want to look like you, only better. Dr. Rahban understands that and provides some of the best ethnic rhinoplasty Los Angeles & Beverly Hills have to offer.
Your Comprehensive Consultation with Dr. Rahban
Ethnic rhinoplasty is one of the most personalized cosmetic procedures because it depends on several factors. Like most cosmetic surgeries, it's modified to address your specific cosmetic goals and needs. However, ethnic rhinoplasties also address your cosmetic concerns while maintaining the markers of your ethnic identity without erasing what makes you you. As such, your personalized ethnic rhinoplasty consultation with Dr. Rahban will last an hour or more.
During your consultation, Dr. Rahban will examine your nose, discuss your cosmetic concerns and goals, and review your medical history. He'll evaluate your general health and pre-existing conditions to determine if you're a suitable candidate for the rhinoplasty. If so, he'll discuss your rhinoplasty options based on your specific concerns. Generally speaking, rhinoplasties are performed as open or closed surgeries, depending on where and how the incisions are placed. However, there are several different techniques within both categories.
Dr. Rahban discusses the pros/cons of all the rhinoplasty treatment options, including their aftercare, recovery, costs, etc. He provides all the information necessary, complete with his personal recommendation, allowing you to make an informed decision. He also answers all your questions and concerns, including the preparation guidelines and recovery process. You'll be asked to stop smoking (if you're a smoker) at least two weeks before the procedure, and you may have to stop taking certain medications.
"Patients always want to know what they are going to look like. I tell them, I work backwards. I won't tell you exactly what you are going to look like. I tell you that I am going to avoid these five things. If I avoid these five things, I am certain that you will get a beautiful, natural result." Dr. Rady Rahban
Member of The Rhinoplasty Society
The Rhinoplasty Society has stringent requirements for entry. From their website: "Members must be persons who perform plastic surgery or facial plastic surgery and who are board certified by the American Board of Plastic Surgery… or an equivalent foreign examining board. Three years' active practice in the field of Plastic and Reconstructive Surgery… is a must. Active members must show contributions to the education of rhinoplasty surgeons by teaching and publishing." Dr. Rahban is proud to be a contributing member of this prestigious establishment.
Dr. Rahban's Philosophy - five things you don't want:
A nose with a pinpoint tip. This nose is called a "Woody Woodpecker" nose, and it is a sign of an overzealous surgeon. When a full, flat or round tip is corrected too much, it can narrow down to a pointy tip that looks, well, unnatural.
A nose with a "ski slope" scoop. Often with a nose job, says Dr. Rahban, less is more. If you have a hump on the bridge of your nose, too often an inexperienced or careless surgeon will remove not just the hump. The result is a nose with a scooped bridge. This type of nose also looks unnatural, particularly on a man.
A nose that is over-rotated. If you have started with a nose that droops down at the tip, you'll want it corrected so that it is straight. But if you go to a surgeon who isn't careful, you can wind up with a nose that is over-rotated, with nostrils pushed upward at an angle that is unnatural.
A super narrow nose. Maybe you've seen someone with this nose job: their nose looks impossibly thin and fragile. Too much has been removed. The nose looks unnatural - and it may take corrective surgery to help you breathe.
A nose with collapsed nostrils. If your nose looks tiny and perfect right after your surgery, that can be a red flag. The swelling in your nose will take over a year to completely subside. This means that if your nose is really small right after surgery, it will probably be too small after a year or two. And if the nasal support has not been rebuilt or left intact, your nostrils could collapse. It won't just look unnatural. It will also make it extremely difficult for you to breathe.
What you want to know about your ethnic rhinoplasty:
Your ethnic rhinoplasty surgery is an out-patient procedure, but that doesn't mean that it is minor surgery, or that it will be brief. After your consultation and examination at his office in Beverly Hills, Dr. Rahban will be able to estimate for you the length of time that you can expect your procedure to take. When it is done correctly, nose surgery is exacting, artistic work that requires careful attention to the tiniest of details.
"Remember: if it's made by hand, it takes time." Dr. Rady Rahban
For the best possible results, expect that your surgery will be performed while you are under a general anesthetic.
The surgical incisions that Dr. Rahban uses may be confined to the inside of the nose, (often called a "closed rhinoplasty"), or they may include an additional small incision under the tip of the nose (often called an "open rhinoplasty"). Dr. Rahban is very proficient with both techniques, so he can make an independent choice for your surgery, using the technique that will allow him to give you the best possible results.
Once the incisions are made, Dr. Rahban will separate the skin of the nose from the underlying bone and cartilage. Next, he will carefully reshape the bone and cartilage of your nose, providing the structure that will reshape your nose, and correcting any breathing issues that you may be experiencing. Finally, he will redrape the skin over the new nose structure, and close the incisions.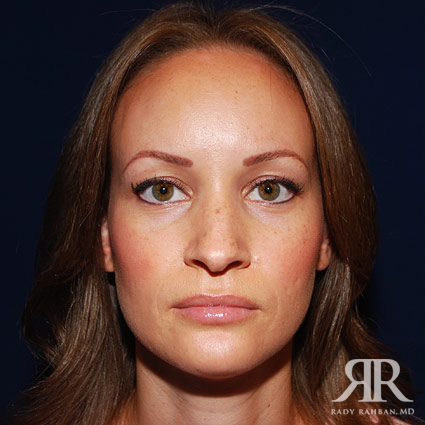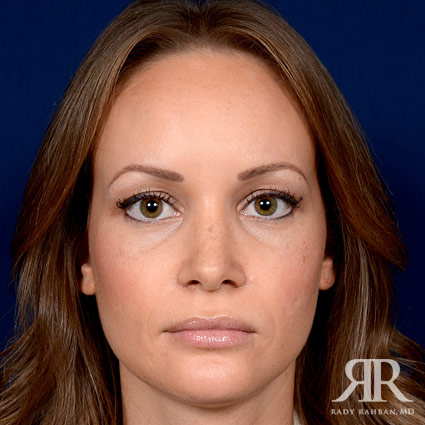 The best reason for combined surgeries: Dr. Rahban will use your own tissues to restructure your nose.
Top Los Angeles Nose Surgeon, Dr. Rahban notes that patients sometimes come to him after they have had surgery to correct breathing issues, now looking for revision rhinoplasty to change the appearance of their nose. A second surgery is certainly possible, but because the earlier nose surgery removed extraneous cartilage and bone from the patient's nose, those materials won't be available for Dr. Rahban to use in re-shaping the patient's new nose. Often he will need to use cartilage from the ear or rib, or even silicone implants, to create the reinforcement necessary to support the new nose structure of a reconstruction rhinoplasty.
If you come straight to Dr. Rahban with all of your nose surgery issues, he can do a full examination, and let you know if you qualify for a combined procedure in which he both repairs your breathing issues and re-sizes your nose. If you qualify, he will be able to use your own nose tissues to restructure your new, more attractive nose. You'll have a single surgery, single set of complication risks, just one recovery period and much less down time.
Special care for ethnic noses. Ethnic noses may require special care and procedures to get the results that patients want. Some ethnic groups have thicker skin that makes the reduction possibilities more limited. Others may require grafting of cartilage from the ear or ribs to allow the nose to be rebuilt to a more attractive size and shape. Dr. Rahban's careful artistry ensures that, whatever the situation, your surgery will result in the more attractive nose that you are looking for.
What you can expect after surgery:
Same day. You'll need someone to drive you home and help you for the first 24 hours after your surgery. The surgery is usually very well tolerated, and while pain medication is available, most patients find that they don't need it. There will be swelling, and from no bruising to mild bruising. You will have a splint, and some packing.
One week. The splint will come off, and you can go back to work. There will still be some swelling.
Six weeks. You'll look great. Only you and Dr. Rahban will know that you are still swollen. But you still have a long way to go to reach your final goal. Says Dr. Rahban:
18 months. The swelling is completely gone, and your nose has stably reached its final size and shape. You look great!
"I tell patients, '80% of your results come in the first 6 weeks to 2 months. The last 20% happens over a year to 18 months."Dr. Rahban
What Our Patients Say: Leanne C.
"Dr. Rahban is more than an amazing surgeon, he's an artist! Everything from the service of his lovely and truly caring staff to the education packed initial visits, I knew he was the right doctor for me.
"I first had a consult back in 2008 for rhinoplasty, and even though it took 3 years for me to move forward with surgery, Dr. Rahban and his staff never pushed me or made me feel uncomfortable for taking such a long time with the decision.
"Now, 3 years later, my finances and courage in place I moved ahead with the procedure. It has turned out to be the best decision of my career.
"My long-time bf says, 'He's got a hot new gf!' Both he and I are truly elated with the results because Dr. Rahban made a nose for my face not just a 'pretty nose'. That turned out to be the most important aspect of this process, because my nose looks real... and it's fabulous! I'm a total Betty, and I don't mind saying so myself." - Leanne C.
Read more Patient Testimonials »
Come in for a Consultation with Dr. Rahban
When Dr. Rahban does a consultation with a prospective patient, he wants it to be two things above all others: thorough and honest. He will find out from you just what you want from cosmetic surgery. And he will tell you honestly if you can get the result you want, and how he can best help you do so.
Call today for a consultation (424) 354-2053 or click here to schedule your consultation online »